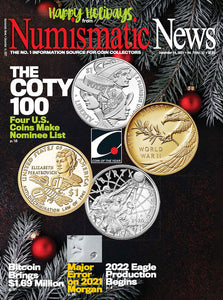 2021 Numismatic News Digital Issue No. 32, December 14
Regular price
$2.99
$0.00
Unit price
per
Numismatic News has been the No. 1 information source for coin collectors since 1952, providing weekly reports on market trends and news concerning collectible U.S. coins and paper money.
In this issue:
- Four U.S. Coins Among the 100 Coin of the Year Nominees
- The Jefferson Peace Medal
- Bargain Collector: Looking for bargains in a tough spot - gold $2.50 Indian Head quarter eagles
- Coin Market at a Glance: Will Bitcoin take its place next to gold?
- Item of the Week: 1939-S Jefferson nickel
- Mint Statistics: Mint issues final product of the year
- Past Times with Coins: Medal marks ill-fated Civil War train heist
- Departments: AnnounceMints, Classifieds, Coin Clinic, Collector's Marketplace, E-Letters, Letters, Show Directory
---