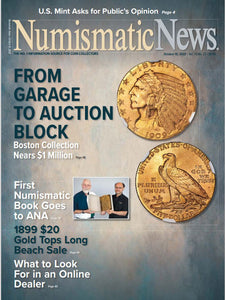 2023 Numismatic News Digital Issue No. 27, October 10
Regular price
$2.99
$0.00
Unit price
per
Numismatic News has been the No. 1 information source for coin collectors since 1952, providing weekly reports on market trends and news concerning collectible U.S. coins and paper money.
In this issue:

- From Garage to Auction Block - Boston Collection Nears $1 Million
- First Numismatic Book Goes to ANA
- 1899 $20 Tops Long Beach Sale
- The Barber Dime
- What to Look for in an Online Dealer
- The Dollar's Identity
- U.S. Mint Seeks Public's Input
- Doubled Dies Explained
- Bigger Than Big: One-Kilo Coins
- $3.8 Million for Martin Collection in "New England Sale"
- Old Collections Surfacing at Auction
---