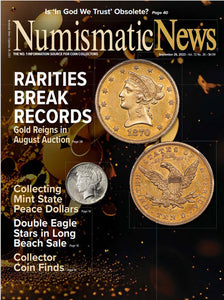 2023 Numismatic News Digital Issue No. 26, September 26
Regular price
$2.99
$0.00
Unit price
per
Numismatic News has been the No. 1 information source for coin collectors since 1952, providing reports on market trends and news concerning collectible U.S. coins and paper money.
In this issue:

- Rarities Break Records - Gold Reigns in August Auction
- Collecting Mint State Peace Dollars
- Double Eagle Stars in Long Beach Sale
- Collector Coin Finds
- Online Forums are a Good Resource for Collectors
- Presidents, Politics, and the Coinage - Part Two
- Palladium American Eagle Hits Market
- Mint State Peace Dollars: The Devil's in the Details
- Collectors Blamed for 1960s Coin Shortage
- Is "In God We Trust" Obsolete?
- PCGS Debuts Holographic Labels for UltraBreaks
---