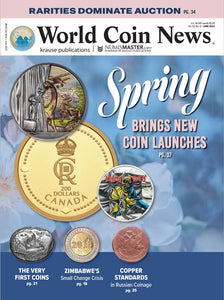 2023 World Coin News Digital Issue No. 6, June
Regular price
$4.99
$0.00
Unit price
per
World Coin News is the No. 1 information source for the most up-to-date coin news from around the world and provides in-depth historical information from top experts in the field.
In this issue:
- Coin Repatriation Rushed
- Maundy Coin Tradition Continues
- Viking Coins of Harold Bluetooth
- Currency Change Surprises
- Zimbabwe Has Small Change Problem
- Home of the First Coins
- Central States Numismatic Society Honors John Dannreuther With 2023 Q. David Bowers Award
- The Coinage of Russia 1796-1797
- Can You Remove a Coin From Its Slab?
- Auction News
- Royal Canadian Mint Unveils Coins Marking King Charles III Coronation
- Spring Brings New Coin Launches
---