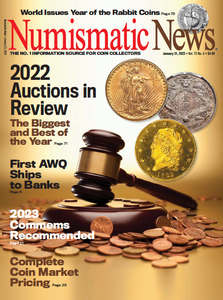 2023 Numismatic News Digital Issue, No. 4, January 31
Regular price
$2.99
$0.00
Unit price
per
Numismatic News, Vol. 72, No. 4, January 31, 2023
Numismatic News has been the No. 1 information source for coin collectors since 1952, providing weekly reports on market trends and news concerning collectible U.S. coins and paper money.
In this issue:
- U.S. Mint Calls For Artists 
- Cheeseburger Stop Proves Profitable
- First 2023 AWQ Ships to Banks
- Are There Bargains Among Proof Seated Half Dimes?
- Money of Their Own
- 'Special Purpose Tokens' of Interest to Collectors
- Marital Status Decided Liberty's Portrait
- Committee Makes Commem Recs
- Future of Gold is Bright
- Numismatics and Nanotechnology
- Shows Mark the Start of Robust Year
- $310 Million in U.S. Coin Sales
- Record Year for Stack's Bowers
- The Year Of The Rabbit
- 1922 Peace Dollar a Product of Chaotic Times
---