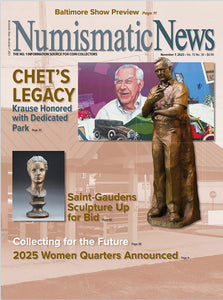 2023 Numismatic News Digital Issue No. 30, November 07
Regular price
$2.99
$0.00
Unit price
per
Numismatic News has been the No. 1 information source for coin collectors since 1952, providing weekly reports on market trends and news concerning collectible U.S. coins and paper money.
In this issue:
- Mint Announces 2025 American Women Quarter Honorees
- eLetters – How do you give back to the hobby?
- CoinClinic – Commemoratives Authorized Through 2027
- The Early quarter Dollars 1796-1815
- New Legacy Park Dedicated to Chester L. Krause
- Stretching the Bargain Dollar with Proof Indian Princess Gold
- Facts about Fakes – How to Spot Fake Pillar Dollars
- Whitman Readies Winter Baltimore Expo
- Marking the End of the Silver Certificate
- Coin Market at a Glance – Collectible Coins Soft, Rare Coins Strong
- Collecting Possibilities for the Future
- Saint-Gaudens 'Victory' First Study Up for Bid
- Why Bother Owning Proof Gold American Eagles
---