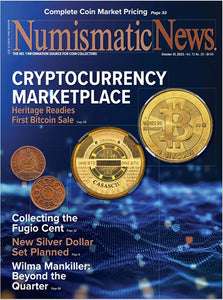 2023 Numismatic News Digital Issue No. 29, October 31
Regular price
$4.99
$0.00
Unit price
per
Numismatic News has been the No. 1 information source for coin collectors since 1952, providing weekly reports on market trends and news concerning collectible U.S. coins and paper money.
In this issue:
- 2024 Coin Show and Auction Guide accepting submissions
- eLetters – Do you search pocket change for interesting finds?
- CoinClinic - In God We Trust' Dates Back to Benjamin Franklin's Militia
- Draped Bust Dollars: 1795-1804
- Pittsburgh ANA Attendance Brings Consecutive Run to 52
- Beyond the Mainstream: The Fugio: An Overlooked Cent
- Coin Market – Market Segments Vary in Performance
- Holiday Season Kicks Off with Mint Ornaments
- A Look Back at 1960s Bank Note Production
- Coin Market at a Glance
- Wilma Mankiller – A Chief for the Cherokee People
- Heritage Preps First of Physical Crypto Sales
- 1873 Trade Dollar's Popularity Due to Its History
---