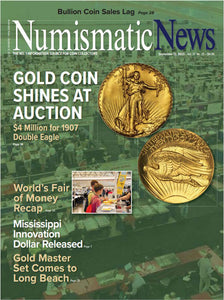 2023 Numismatic News Digital Issue No. 25, September 12
Regular price
$2.99
$0.00
Unit price
per
Numismatic News has been the No. 1 information source for coin collectors since 1952, providing weekly reports on market trends and news concerning collectible U.S. coins and paper money.
In this issue:

- 2023 World's Fair of Money
- Mississippi Next Up in Innovation Dollar Program
- One-Ounce Silver Bullion Coins We Might Not Expect
- Collectors Snap up Morgan, Peace Dollars
- Beware of Ads for Bogus Silver Eagles
- Presidents, Politics, and the Coinage - Part One
- Coins Hold Strong While Bullion Lags
- NGC Gets Justice in Tampering Case
- 1907 Double Eagle Brings $4.32 Million
- How Do You Define Beauty?
- Search for 1913 Liberty Head Nickels a "Futile Fad"
---