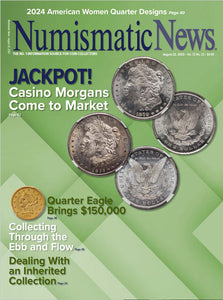 2023 Numismatic News Digital Issue No. 23, August 22
Regular price
$2.99
$0.00
Unit price
per
Numismatic News has been the No. 1 information source for coin collectors since 1952, providing weekly reports on market trends and news concerning collectible U.S. coins and paper money.
In this issue:

- Longacre's Flying Eagle Designed by Gobrecht
- George Morgan and His Dollar
- Collecting the Commemorative Glut of 1936
- Baseball and Numismatics: Alexander Cartwright Jr.
- What to do With an Inherited Coin Collection
- Review of 2024 'Red Book'
- Ebb and Flow
- Records Set in Heritage's $12.5 Million Auction
- 2024 American Woman Quarter Designs Unveiled
- Casino Hoard of 'CC' Morgans to be Auctioned
- 1935 - D Buffalo Nickel Gets Better and Better
---