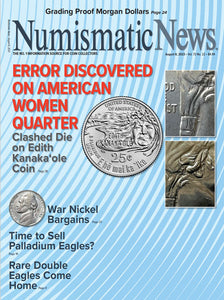 2023 Numismatic News Digital Issue No. 22, August 8
Regular price
$2.99
$0.00
Unit price
per
Numismatic News has been the No. 1 information source for coin collectors since 1952, providing weekly reports on market trends and news concerning collectible U.S. coins and paper money.
In this issue:

- Jovita Idar Quarter on Deck
-  The Flowing Hair Dollars of 1794-1795
- Time to Sell Your Palladium Eagles?
- Low Pries Among High Grade Nickels: The Jefferson War Nickels
- Grading Mint State Morgans
- Hawaii's Half Dollar
- While Fine Art Lags, Coin Market Remains Strong2
- Major Clashed Dies Discovered on Kanaka'ole Quarter
- Rare Capped Bust Proofs Graded, Heading to Auction
- Mercanti Sculpts to be Auctioned at Pan Dinner
- Franklin Half Dollar Gains Respect With Melting
---