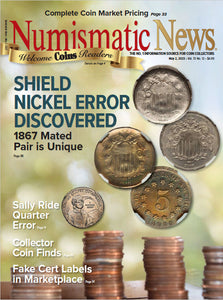 2023 Numismatic News Digital Issue, No. 12, May 2
Regular price
$2.99
$0.00
Unit price
per
Numismatic News, Vol. 72, No. 12, May 2, 2023
Numismatic News has been the No. 1 information source for coin collectors since 1952, providing weekly reports on market trends and news concerning collectible U.S. coins and paper money.
In this issue:
- 'Coins' Magazine Took Us There
- Sally Ride Error Coin Certified by NGC
- The Barber Quarter-Dollars
- Copper-Nickel Small Cents
- Gold Coin, Certificate Ownership a Real Concern 
- Bargains Galore in Canada's Forgotten Silver
- Mourning the 90th Anniversary
- Innovative Bourse at Central States
- Gold Proof Eagles Sold to Eager Buyers
- What's Your Best Recent Coinstar Find?
- Coins Becoming Tangible Asset Class
- Damage in the Eye of the Beholder?
- Unique Mated Pair Shield Nickel Discovered
- Seeing Double? ACEF Reports Fakes
- Collectors Greeted 1965 Washington Quarter With Scorn
---