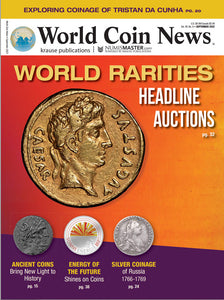 2022 World Coin News Digital Issue No. 09, September
Regular price
$4.99
$0.00
Unit price
per
World Coin News is the No. 1 information source for the most up-to-date coin news from around the world and provides in-depth historical information from top experts in the field. 
In this issue:

- India Seeks Reparations of Gigantic Coins
- Zimbabwe Turns to Gold Coins
- Challenge to New Philippine Bank Notes
- Star on Coin Records Supernova Explosion
- Pre-Invasion Roman Coins Found in Britain
- Medieval Coin research Proves Challenging
- Mints Are Making Mint
- What Does KM Stand For in Coin Descriptions?
- Exploring Tristan da Cunha Coinage
- The Silver Coinage of Russia 1776-1769
- Hot Prices for Celtic Silver
- Energy of the Future Shines on Coins
- New Coin Celebrates One of Australia's Greatest Engineering Feats
- Remembering the People's Princess, Diana Princess of Wales
- Departments: Auction Coverage, Show Calendar
---