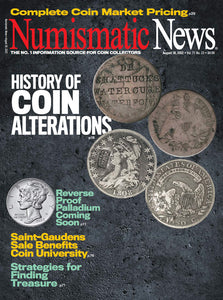 2022 Numismatic News Digital Issue No. 23, August 30
Regular price
$2.99
$0.00
Unit price
per
Numismatic News has been the No. 1 information source for coin collectors since 1952, providing weekly reports on market trends and news concerning collectible U.S. coins and paper money.
In this issue:
- CCAC Seeks Applicants
- Does Metals Market Manipulation Equal Conspiracy?
- Should the United Staes drop he cent in favor of a 2-cent piece?
- Reverse Proof Palladium Eagle Released in September
-  Top of the Charts: Proof Mercury Dimes
-  Franklin Mint Served Island Counties
- The History of Coin Alteration
- The Carson City Mint
- Coins Fairing Well Despite Economic Downturn
- Strategies For Finding Treasure
- Mint Output Steady at 1 Billion per Month
- Sets Continue Upward Climb
- Coin University Receives $25,000 from Double Eagle Sale
- Simpson Saint-Gaudens Highlights Heritage Sale
- Rosie the Riveter Featured on New PCDG Label
- ANA Appoints Official Grading Scale
- 1943-P Nickel is Affordable Wartime Reminder
---