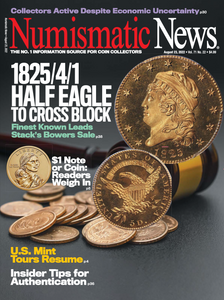 2022 Numismatic News Digital Issue No. 22, August 23
Regular price
$4.99
$0.00
Unit price
per
Numismatic News has been the No. 1 information source for coin collectors since 1952, providing weekly reports on market trends and news concerning collectible U.S. coins and paper money.
In this issue:

- Collectors Remain Active Despite Economic Uncertainty
- Finest Known 1825/4/1 Half Eagle Leads Sale
- U.S. Mint Resumes Tours
- Insider Tips for Authentication
- The 20-Cent Piece
- Patrick A. Heller: Is the price of gold manipulated?
- Beyond the Mainstream: Do any of us assemble a full set of 2-cent pieces? 
- Coin Market at a Glance: Collectors active despite uncertainty
- Item of the Week: $3 gold tough, but good deal deal in mint state
- Making the Grade: helpful hints for learning to authenticate  
- Mint Statistics: Gold big and small performs well
- On the Scene: Activities about despite quiet show schedule
- Past Times with Coins: Questionable cleaner spoofed
- Viewpoint: A numismatic journey of 50 years
- Departments: AnnounceMints, Classifieds, Coin Clinic, Collector's Marketplace, E-Letters, Letters, Show Directory
---