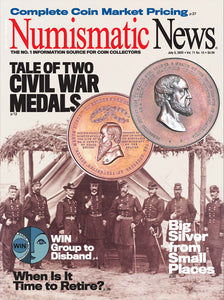 2022 Numismatic News Digital Issue No. 18, July 5
Regular price
$2.99
$0.00
Unit price
per
Numismatic News has been the No. 1 information source for coin collectors since 1952, providing weekly reports on market trends and news concerning collectible U.S. coins and paper money.
In this issue:

- The Tale of Two Civil War Medals
- Complete Coin Market Pricing
- WIN Group to Disband
- When is it Time to Retire from Numismatics?
- Beyond the Mainstream: Big Silver from Small Places
- Coin Market: Pricing gaps muddy the waters
- Coin Market at a Glance: Underdog markets showing strength
- Item of the Week: Pan-Pac commemoratives ambitious undertaking
- Mint Statistics: Annual Innovation proof set is here
- On the Scene: May road trip leads to spring PAN show
- Past Times with Coins: Medal remembers French colony Castorland
- Viewpoint: Questions to ask before selecting a grading service
- Departments: AnnounceMints, Classifieds, Coin Clinic, Collector's Marketplace, E-Letters, Letters, Show Directory
---