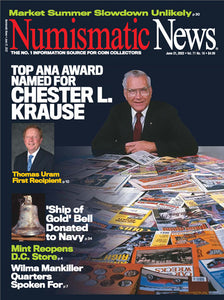 2022 Numismatic News Digital Issue No. 16, June 21
Regular price
$2.99
$0.00
Unit price
per
Numismatic News has been the No. 1 information source for coin collectors since 1952, providing weekly reports on market trends and news concerning collectible U.S. coins and paper money.
In this issue:

- Top ANA Award Named for Chester L. Krause; Thomas Uram is First Recipient
- Summer Market Unlikely to Slow Down
- 'Ship of Gold' Bell Donated to Navy
- The Mint Reopens DC Store
- Wilma Mankiller Quarters Spoken For
- Patrick A. Heller: My brushes with numismatic history, part 1
- British Copper and American Coinage
- Beyond the Mainstream: The coins of Elizabeth Jones
- Coin Market at a Glance: Not-so-slow summer for coins?
- Item of the Week: 1856-S dime not a priority during gold rush
- Mint Statistics: May sales end on a quiet note
- Past Times with Coins: Coin knowledge aids sergeant in theft arrest
- Departments: AnnounceMints, Classifieds, Coin Clinic, Collector's Marketplace, E-Letters, Letters, Show Directory
---