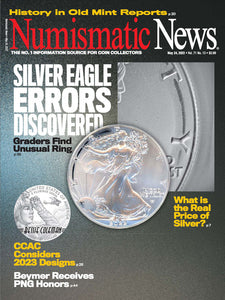 2022 Numismatic News Digital Issue No. 13, May 24
Regular price
$2.99
$0.00
Unit price
per
Numismatic News has been the No. 1 information source for coin collectors since 1952, providing weekly reports on market trends and news concerning collectible U.S. coins and paper money.

In this issue:
- Striking Error Discovered on 2022 Silver Eagles
- U.S. Mint Reports and Coinage
- What was the First Coin Struck from California Gold?
- Bargain Collector: Capped bust half dimes - small prices in small silver?  
- Coin Market at a Glance: Sellers showing confidence in the current market
- Item of the Week: 1922-D Peace dollar
- Mint Statistics: Vermont Innovation dollar released
- Past Times with Coins: 'Coins' responds to variety hunters
- Viewpoint: What is the real price of silver?
- Departments: AnnounceMints, Classifieds, Coin Clinic, Collector's Marketplace, E-Letters, Letters, Show Directory
---