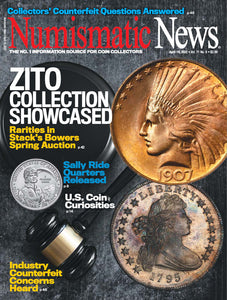 2022 Numismatic News Digital Issue No. 09, April 19
Regular price
$2.99
$0.00
Unit price
per
Numismatic News has been the No. 1 information source for coin collectors since 1952, providing weekly reports on market trends and news concerning collectible U.S. coins and paper money.

In this issue:
- Zito Collection Showcased
- Sidelights of Early American Coinage
- Bargain Collector: Indian Head Quarter Eagles a quirky little series
- Coin Market at a Glance: Will bullion coin rally continue?
- Facts About Fakes: The big collector questions
- Item of the Week: 1955-D Washington quarter
- Mint Statistics: Ride quarters, colorized silver sell out
- On the Scene: Six weeks on the road, part 1
- Past Times with Coins: A 1960s view of Canadian notes
- Departments: AnnounceMints, Classifieds, Coin Clinic, Collector's Marketplace, E-Letters, Letters, Show Directory
---