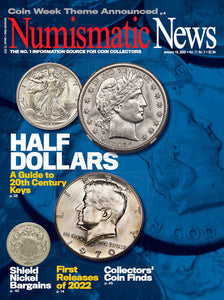 2022 Numismatic News Digital Issue No. 02, January 18
Regular price
$2.99
$0.00
Unit price
per
Numismatic News has been the No. 1 information source for coin collectors since 1952, providing weekly reports on market trends and news concerning collectible U.S. coins and paper money.
In this issue:
- A Guide to the Key 20th Century Half Dollars
- A Medal for the General
- Bargain Collector: Shield nickels - big bargains in a small series?
- Coin Market at a Glance: Coin demand defies precious metal trend
- Item of the Week: 1838-O half dollar
- Mint Statistics: Palladium eagles make December showing
- On the Scene: Travel experiences varied in October
- Past Times with Coins: 1960s TV star attends California coin show
- Viewpoint: No such thing as U.S. pennies
- Departments: AnnounceMints, Classifieds, Coin Clinic, Collector's Marketplace, E-Letters, Letters, Show Directory
---