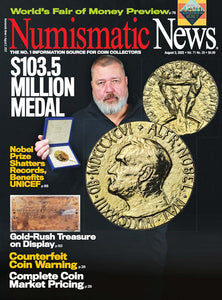 2022 Numismatic News Digital Issue No. 20, August 2
Regular price
$4.99
$0.00
Unit price
per
Numismatic News has been the No. 1 information source for coin collectors since 1952, providing weekly reports on market trends and news concerning collectible U.S. coins and paper money.
In this issue:
- Nobel Peace Prize Medal Sells for a Record-Breaking $103.5 Million to Benefit UNICEF
- World's Fair of Money Preview
- The Philadelphia Mint
- Patrick A. Heller: Time to Buy Outside of the United States?
- Beyond the Mainstream: The Indian Princess Small Head little-known contender for shortest-lived design 
- Coin Market: Market rallies worldwide
- Coin Market at a Glance: How will business fare in summer slowdown?
- Item of the Week: San Francisco $1 part of Gold Rush history
- Mint Statistics: Silver proof set sales underway
- Past Times with Coins: The rise and fall of "Kingfish" Huey Long
- Viewpoint: Time to simplify standards for Morgan dollar reflectivity
- Departments: AnnounceMints, Classifieds, Coin Clinic, Collector's Marketplace, E-Letters, Letters, Show Directory
---