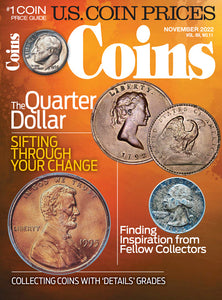 2022 Coins Magazine Digital Issue No. 11, November
Regular price
$5.99
$0.00
Unit price
per
Since its inception in 1955, Coins magazine has been a hobby leader in providing collectors with important and timely information key to making wise decisions on what coins to collect and how to get them. Get market trends, buying techniques, and historical perspectives on all aspects of coins (numismatics). Each issue delivers in-depth analysis, up-to-the-minute valuations, answers to all of your coin questions, and more. 
In this issue:
- Sifting Our Change For Cents and Dollars
- The Quarter Dollar
- Collecting Washington State Quarters
- Do You Collect Coins With Details Grades?
- Finding Inspiration From Fellow Collectors
- Departments: Coin Value Guide, Coin Finds
---