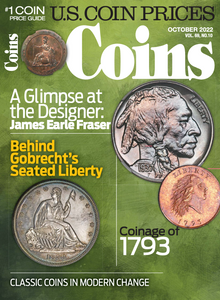 2022 Coins Magazine Digital Issue No. 10, October
Regular price
$5.99
$0.00
Unit price
per
Since its inception in 1955, Coins magazine has been a hobby leader in providing collectors with important and timely information key to making wise decisions on what coins to collect and how to get them. Get market trends, buying techniques, and historical perspectives on all aspects of coins (numismatics). Each issue delivers in-depth analysis, up-to-the-minute valuations, answers to all of your coin questions, and more. 
In this issue:
- The Work of Designer James Earle Fraser
- The Coinage of 1793
- Classic Coins in Modern Change
- The Design and the Designer: Seated Liberty and before
- Basics and Beyond: What will happen to your collection?
- Market Watch: Pricing gaps muddy the water
- Departments: Coin Value Guide, Coin Finds
---