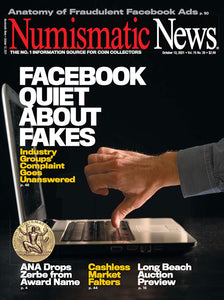 2021 Numismatic News Digital Issue No. 26, October 12
Regular price
$2.99
$0.00
Unit price
per
Numismatic News has been the No. 1 information source for coin collectors since 1952, providing weekly reports on market trends and news concerning collectible U.S. coins and paper money.
In this issue:
- Numismatic Groups Admonish Facebook About Ads for Counterfeits, Complaints Go Unanswered
- Mottos on United States Coins
- Bargain Collector: Looking for bargains among the last of the half cents
- Coin Finds: Collectors have a good year of discoveries
- Coin Market at a Glance: Cashless market is not king
- Item of the Week: 1804 large cent
- Making the Grade: "True" technical grading explained
- Mint Statistics: Collectors snap up silver eagles
- Past Times with Coins: Where'd the money go?
- Departments: AnnounceMints, Classifieds, Coin Clinic, Collector's Marketplace, E-Letters, Letters, Show Directory
---