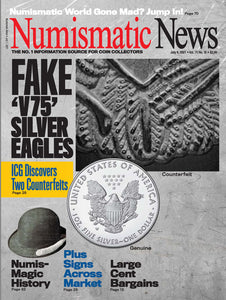 2021 Numismatic News Digital Issue No. 18, July 6
Regular price
$2.99
$0.00
Unit price
per
Numismatic News has been the No. 1 information source for coin collectors since 1952, providing weekly reports on market trends and news concerning collectible U.S. coins and paper money.
In this issue:
- Independent Coin Graders Discover Fake "V75" Silver Eagles
- Profile on Elias Boudinot, President and Director of the Mint from 1782-1783
- Bargain Collector: Finding bargains one cent at a time
- Coin Market: Plus signs across the market
- Coin Market at a Glance: Numismatic world gone mad? Jump in!
- Item of the Week: 1886-S Morgan dollar
- Mint Statistics: Sales experiencing early summer doldrums
- On the Scene: Easing of pandemic is accelerating club, show activities
- Past Times with Coins: The magic of coins
- Viewpoint: Circulated coins have a beauty all their own
- Departments: AnnounceMints, Classifieds, Coin Clinic, Collector's Marketplace, E-Letters, Letters, Show Directory
---