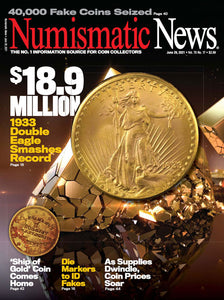 2021 Numismatic News Digital Issue No. 17, June 29
Regular price
$2.99
$0.00
Unit price
per
Numismatic News has been the No. 1 information source for coin collectors since 1952, providing weekly reports on market trends and news concerning collectible U.S. coins and paper money.
In this issue:
- The Only Legal 1933 Double Eagle Sets World Record of $18.9M
- The California Gold Rush and U.S. Coinage
- Bargain Collector: Can there be bargains among proof Morgans?
- Coin Market at a Glance: Collector, investor appetites insatiable
- Facts About Fakes: The three levels of die markers
- Item of the Week: 1924-D Lincoln cent
- Mint Statistics: Gold bullion sales posted for start of June
- Past Times with Coins: Reader's fake coin bears interesting history
- Viewpoint: Predicting silver spot prices
- Departments: AnnounceMints, Classifieds, Coin Clinic, Collector's Marketplace, E-Letters, Letters, Show Directory
---