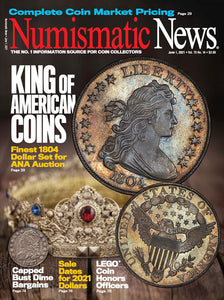 2021 Numismatic News Digital Issue No. 14, June 1
Regular price
$2.99
$0.00
Unit price
per
Numismatic News has been the No. 1 information source for coin collectors since 1952, providing weekly reports on market trends and news concerning collectible U.S. coins and paper money.
In this issue:
- Pogue 1804 Dollar, "King of American Coins," Heading to ANA Auction
- The 1938 Jefferson Nickel
- Bargain Collector: Sifting for bargains among capped bust dimes
- Coin Market: Metal gains, lifted restrictions fuel market
- Coin Market at a Glance: Precious metals on the move
- Item of the Week: 1892-D Washington quarter
- Mint Statistics: Harrison Presidential Medal debuts
- Past Times with Coins: Article explores "uses and abuses" of coins
- Viewpoint: Are you investing or collecting?
- Departments: AnnounceMints, Classifieds, Coin Clinic, Collector's Marketplace, E-Letters, Letters, Show Directory
---