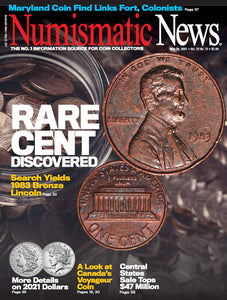 2021 Numismatic News Digital Issue No. 13, May 25
Regular price
$2.99
$0.00
Unit price
per
Numismatic News has been the No. 1 information source for coin collectors since 1952, providing weekly reports on market trends and news concerning collectible U.S. coins and paper money.
In this issue:
- A Rare 1983 Bronze Cent is Discovered By Oregon Man
- Half Dollars of 1794-1807
- Bargain Collector: Looking for value in Canadian silver dollars
- Coin Market at a Glance: Quality copper selling strong
- Item of the Week: 1878-S Seated Liberty half dollar
- Making the Grade: How much friction wear is too much?
- Mint Statistics: April sales wrap for gold, silver bullion
- On the Scene: Numismatics in the pandemic world has required adjustments
- Past Times with Coins: Voyageur dollar carries historical importance
- Viewpoint: Collecting experiences shed light on wear
- Departments: AnnounceMints, Classifieds, Coin Clinic, Collector's Marketplace, E-Letters, Letters, Show Directory
---