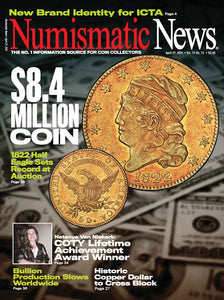 2021 Numismatic News Digital Issue No. 10, April 27
Regular price
$2.99
$0.00
Unit price
per
Numismatic News has been the No. 1 information source for coin collectors since 1952, providing weekly reports on market trends and news concerning collectible U.S. coins and paper money.
In this issue:
- The 1822 Half Eagle Sets $8.4M Auction Record
- Money of the Civil War
- Bargain Collector: Do bargains exist among 2-cent pieces?
- Coin Market at a Glance: Mule shines spotlight on dollar coins
- Item of the Week: 1933 $10 gold eagle
- Mint Statistics: Proof set sales make steady climb
- Past Times with Coins: A million silver dollars displayed at Seattle World's Fair
- Viewpoint: In memorial to Gene Hynds
- Departments: AnnounceMints, Classifieds, Coin Clinic, Collector's Marketplace, E-Letters, Letters, Show Directory
---