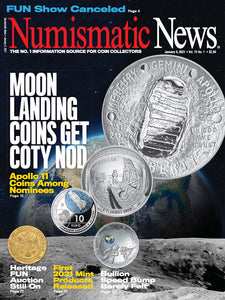 2021 Numismatic News Digital Issue No. 01, January 5
Regular price
$2.99
$0.00
Unit price
per
Numismatic News has been the No. 1 information source for coin collectors since 1952, providing weekly reports on market trends and news concerning collectible U.S. coins and paper money.
In this issue:
- Moon Landing Coins Get Coin of the Year Nod
- Bargain Collector: Proof silver Kennedy halves - a riot of bargains?
- Coin Market: Coin values improve despite the bullion speed bump
- Coin Market at a Glance: Auctions keep the coin market buoyant
- Item of the Week: 1955-D Washington quarter
- Making the Grade: Coin's third side useful authentication tool
- Mint Statistics: Sales continue as 2020 winds down
- Past Times with Coins: 'The error of the decade" easy to spot
- Proof Coinage: 1874-1880, part 1
- Viewpoint: Numismatic News should appeal to more "small" collectors
- Departments: AnnounceMints, Classifieds, Coin Clinic, Collector's Marketplace, E-Letters, Letters, Show Directory
---