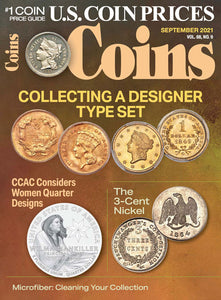 2021 Coins Magazine Digital Issue No. 09, September
Regular price
$5.99
$0.00
Unit price
per
Since its inception in 1955, Coins Magazine has been a hobby leader in providing collectors with important and timely information key to making wise decisions on what coins to collect and how to get them. Get market trends, buying techniques, and historical perspectives on all aspects of coins (numismatics). Each issue delivers in-depth analysis, up-to-the-minute valuations, answers to all of your coin questions, and more. 
In this issue:
-Collecting a Designer Type Set
- CCAC Considers Women Quarter Designs
- 3-Cent Nickel Coinage
- Pratt's Indian Head Quarter and Half Eagles 
- Basics and Beyond: Microfiber cloth for cleaning coins?
- Market Watch: Plus signs across the market
- Coin Finds: Best collecting finds
- Departments: Coin Value Guide
---