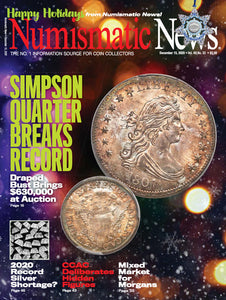 2020 Numismatic News Digital Issue No. 32, December 15
Regular price
$2.99
$0.00
Unit price
per
Numismatic News has been the No. 1 information source for coin collectors since 1952, providing weekly reports on market trends and news concerning collectible U.S. coins and paper money.
In this issue:
- Simpson Quarter Breaks Record After Selling for $630K
- Record Silver Shortage in 2020?
- Hidden Figure Medal designs Considered
- Longacre and the Chilean Dies of 1867
- Bargain Collector: Bargains across almost 90 years of Washington quarters
- Coin Market at a Glance: Once leading way, Morgans now mixed market
- Item of the Week: 1870-S half dime
- Mint Statistics: WWII, Mayflower, ornaments, oh my!
- Past Times with Coins: Mintmark on proofs - who needs it?
- Viewpoint: The joy of sharing and giving in our hobby
- Departments: AnnounceMints, Classifieds, Coin Clinic, Collector's Marketplace, Letters, Show Directory, Web Directory
---