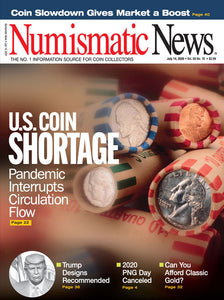 2020 Numismatic News Digital Issue No. 19, July 14
Regular price
$2.99
$0.00
Unit price
per
Numismatic News has been the No. 1 information source for coin collectors since 1952, providing weekly reports on market trends and news concerning collectible U.S. coins and paper money.
In this issue:
- U.S. Coin Shortage: Pandemic Interrupts Circulation Flow
- Trump Designs Recommended
- 2020 PNG Day Canceled
- Can You Afford Classic Gold?
- The Capped Bust Dime, 1809-1837
- Coin Market at a Glance: Coin shortage to give market a bump
- Item of the Week: 1822 half eagle a numismatic treasure
- Mint Statistics: Downward sales adjustments abound
- Viewpoint: Coin lots make collecting fun
- Departments: AnnounceMints, Classifieds, Coin Clinic, Collector's Marketplace, Letters, Show Directory
---