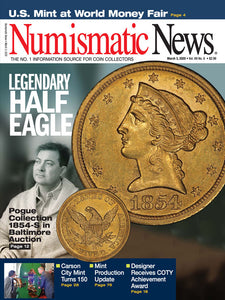 2020 Numismatic News Digital Issue No. 06, March 3
Regular price
$2.99
$0.00
Unit price
per
Numismatic News has been the No. 1 information source for coin collectors since 1952, providing weekly reports on market trends and news concerning collectible U.S. coins and paper money.
In this issue:
- Legendary Half Eagle: Pogue Collection 1854-S in Baltimore Auction
- Carson City Mint Turns 150
- The Half Dollars of 1801-1807
- Mint Production Update
- Designer Receives COTY Achievement Award
- Coin Market: Bullion coin market heating up
- Coin Market at a Glance: Market for Morgan and Peace dollars still soft
- Item of the Week: 1793 Wreath Cent - were proofs produced?
- Viewpoint: Why I collect West Virginia scrip
- Departments: AnnounceMints, Classifieds, Coin Clinic, Collector's Marketplace, Letters, Show Directory
---