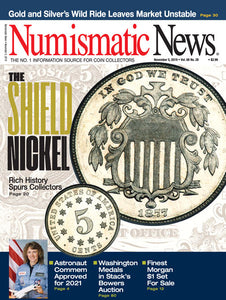 2019 Numismatic News Digital Issue No. 28, November 5
Regular price
$2.99
$0.00
Unit price
per
Numismatic News has been the No. 1 information source for coin collectors since 1952, providing weekly reports on market trends and news concerning collectible U.S. coins and paper money.
In this issue:
- The Shield Nickel's Rich History Attracts Collectors
- Gold and Silver's Wild Ride Leaves Market Unstable
- Christa McAuliffe Commemorative Approved for 2021
- Washington Medals Head to Auction
- The Finest Morgan $1 Set for Sale
- Coin Market at a Glance: Should Collectors Listen to Headlines That Say Now is the Time to Buy Coins?
- Item of the Week: The 10th Anniversary 1995-W Silver American Eagle
- Mint Statistics: Circulating ATB Set, Innovation Proof Set Debut
- Viewpoint: Increasing Coin Club Memberships
- Departments: AnnounceMints, Classifieds, Coin Clinic, Collector's Marketplace, Letters, Show Directory
---