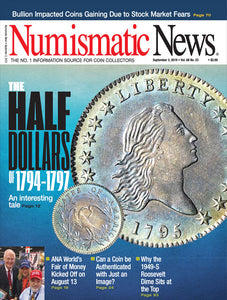 2019 Numismatic News Digital Issue No. 23, September 3
Regular price
$2.99
$0.00
Unit price
per
Numismatic News has been the No. 1 information source for coin collectors since 1952, providing weekly reports on market trends and news concerning collectible U.S. coins and paper money.
In this issue:
- The Half Dollars of 1794-1797 Tell an Interesting Tale
- Stock Market Fears Boosts Bullion-Impacted Coins
- ANA World's Fair of Money Coverage
- Facts About Fakes: Can a Coin Be Authenticated with Just an Image?
- Item of the Week: Why the 1949-S Roosevelt Dime Sits at the Top
- Mint Statistics: Sales Kick-Off for 2019-S Proof Silver Eagle
- Viewpoint: Coin Show Etiquette
- Departments: AnnounceMints, Classifieds, Coin Clinic, Collector's Marketplace, Letters, Show Directory
---