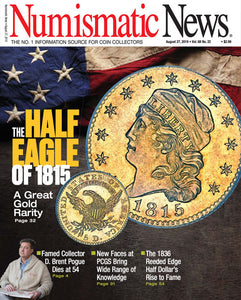 2019 Numismatic News Digital Issue No. 22, August 27
Regular price
$2.99
$0.00
Unit price
per
Numismatic News has been the No. 1 information source for coin collectors since 1952, providing weekly reports on market trends and news concerning collectible U.S. coins and paper money.
In this issue:
- The Half Eagle of 1815 is a Great Gold Rarity
- Famed Collector D. Brent Pogue Dies
- Common Gold Coins Slowing But Bullion May Be on the Rise
- New Faces at PCGS Bring Wide Range of Knowledge
- Coin Market at a Glance: Collector Coins Continue to Lag
- Item of the Week: The 1836 Reeded Edge Half Dollar's Rise to Fame
- Mint Statistics: Where's the Bullion?
- On the Scene: Enjoying the RCNA in Calgary
- Viewpoint: US Bills Should Have Stories
- Departments: AnnounceMints, Classifieds, Coin Clinic, Collector's Marketplace, Letters, Show Directory
---