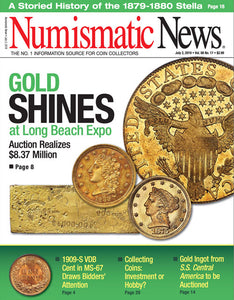 2019 Numismatic News Digital Issue No. 17, July 2
Regular price
$2.99
$0.00
Unit price
per
Numismatic News has been the No. 1 information source for coin collectors since 1952, providing weekly reports on market trends and news concerning collectible U.S. coins and paper money.
In this issue:
- The Storied History of the Stella, 1879-1880
- Gold Shines at $8.37M Long Beach Expo Auction
- Bidders Clamor for 1909-S VDB Cent in MS-67
- Collecting Coins: Investment or Hobby?
- Gold Ingot from S.S. Central Heads to Auction
- Coin Market at a Glance: Buyer's Market Continuing with Gusto
- Item of the Week: 1874-S Seated Liberty Dime
- Mint Statistics: What is the Future of Kennedy Halves?
- Viewpoint: Why is it a Penny When it's Not a Cent?
- Departments: AnnounceMints, Classifieds, Coin Clinic, Collector's Marketplace, Letters, Show Directory
---