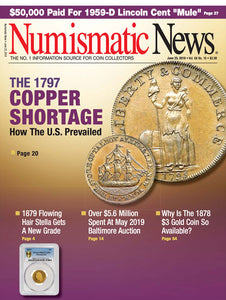 2019 Numismatic News Digital Issue No. 16, June 25
Regular price
$2.99
$0.00
Unit price
per
Numismatic News has been the No. 1 information source for coin collectors since 1952, providing weekly reports on market trends and news concerning collectible U.S. coins and paper money.
In this issue:
- How the U.S. Prevailed During the 1797 Copper Shortage
- The 1879 Flowing Hair Stella Gets a New Grade
- Collectors Spend Over $5.6M at Baltimore Auction
- The Coinage of 1797
- 60 Years is Too Long to be Without a Logo
- Coin Market at a Glance: Collectors and Dealers Are in This Together
- Item of the Week: Why is the 1878 $3 Gold Coin So Available?
- Mint Statistics: 2019 Sets Continue to Be Collectors' Choice
- Viewpoint: The State of Coin Collecting
- Departments: AnnounceMints, Classifieds, Coin Clinic, Collector's Marketplace, Letters, Show Directory
---