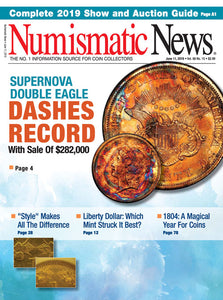 2019 Numismatic News Digital Issue No. 15, June 11
Regular price
$2.99
$0.00
Unit price
per
Numismatic News has been the No. 1 information source for coin collectors since 1952, providing weekly reports on market trends and news concerning collectible U.S. coins and paper money.
In this issue:
- Supernova Double Eagle Dashes Record After Selling for $282K
- Which Mint Struck Liberty Dollar the Best?
- Coin Market at a Glance: Market Continues to Heavily Favor Buyer Rather Than Seller
- Fakes About Fakes: Genuine Coins Have "Style"
- Item of the Week: The 1804 Quarter
- Mint Statistics: Silver Bullion Makes a Small Leap
- Viewpoint: An Open Letter in Response to the U.S. Mint
- Departments: AnnounceMints, Classifieds, Coin Clinic, Collector's Marketplace, Letters, Show Directory
---