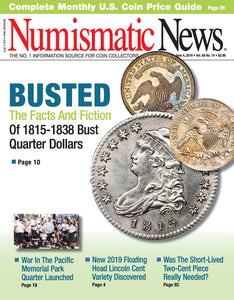 2019 Numismatic News Digital Issue No. 14, June 4
Regular price
$2.99
$0.00
Unit price
per
Numismatic News has been the No. 1 information source for coin collectors since 1952, providing weekly reports on market trends and news concerning collectible U.S. coins and paper money.
In this issue:
- Facts and Fiction of the 1815-1838 Bust Quarter Dollars
- Quarter Launched for War in the Pacific Memorial Park
- A New Variety Discovered for the 2019 Floating Head Lincoln Cent
- Was the Short-Lived Two-Cent Piece Really Needed?
- Coin Market at a Glance: Are We Stuck Between a Rock and a Hard Place?
- Item of the Week: An 1870 Two-Cent Piece
- Mint Statistics: Sales of 2019 Proof Sets Tapering Off
- On the Scene: April Busy Travel Month for Numismatics
- Viewpoint: Why Coin Shows Are Important
- Departments: AnnounceMints, Classifieds, Coin Clinic, Collector's Marketplace, Letters, Show Directory
---