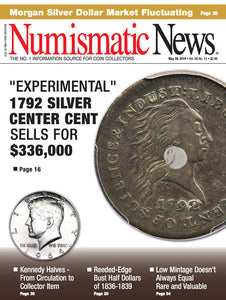 2019 Numismatic News Digital Issue No. 13, May 28
Regular price
$2.99
$0.00
Unit price
per
Numismatic News has been the No. 1 information source for coin collectors since 1952, providing weekly reports on market trends and news concerning collectible U.S. coins and paper money.
In this issue:
- An "Experimental" 1792 Silver Center Cent Sells for $336K
- Market Fluctuating for Morgan Silver Dollar
- Kennedy Halves: From Circulation to Collector Item
- The Reeded-Edge Bust Half Dollars of 1836-1839
- Low Mintage Doesn't Always Equal Rare and Valuable
- ANA Volunteers Grateful to CSNS
- U.S. Mint Releases American Memorial Park Quarter
- Royal Mint Honors 75 Years Since D-Day Landings
- Silver Taps for Lawrence Sullivan Ross
- Coin Market at a Glance: What's in the Future for Coin Collecting?
- Item of the Week: The 1938-D Jefferson Nickel
- Mint Statistics: Is the Bonus 2019 Lincoln Penny Helping Proof Set Sales?
- Viewpoint: A Letter to the Token Medal Society
- Departments: AnnounceMints, Classifieds, Coin Clinic, Collector's Marketplace, Letters, Show Directory
---