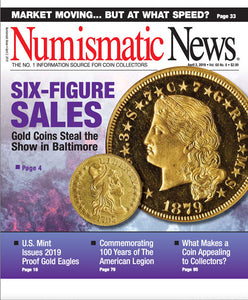 2019 Numismatic News Digital Issue No. 08, April 2
Regular price
$2.99
$0.00
Unit price
per
Numismatic News has been the No. 1 information source for coin collectors since 1952, providing weekly reports on market trends and news concerning collectible U.S. coins and paper money.
In this issue:
- Gold Coins Take Center Stage in Baltimore Sale
- What Speed is the Market Moving?
- The American legion Celebrates 100 Years
- What Makes a Coin Appealing to Collectors?
- Coin Market: Bullion Settles Into Newer, Higher Trading Range
- Coin Market at a Glance: 
- Item of the Week: 1921 SLQ Tougher to Find in Lower Grades
- Mint Statistics: Are Gold Eagle Proofs Flying Away?
- Viewpoint: 70-Point Grading Scale Serves Hobby Well
- Departments: Classifieds, Coin Clinic, Collector's Marketplace, Letters, Show Directory
---